September 25, 2020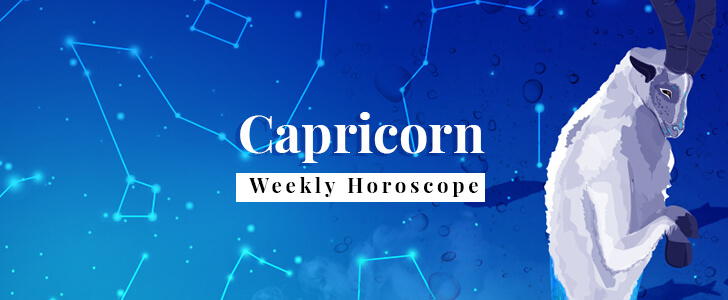 Weekly Prediction for Capricorn May 4th-May 8th-2020
Coronavirus pandemic is having its effect across the world and the lifestyle of people has witnessed a great impact consequently. Even horoscopes are experiencing sudden changes but with patience and a flexible temperament, tough tides will stride. Prediction for May 2020 for Capricorn zodiac indicates a vulnerability in families, relationships, and career. But not all days are alike and following the weekly forecast for May 4th –May 8th, 2020 indicates the same trend. https://vedicguruji.com/about/
May 4th, 2020 (Monday): The transit of Mercury in Sun will prove to be beneficial for the people belonging to Capricorn zodiac sign. They will have rational thinking that will help in developing a positive approach to life and relationships. Balance thinking clubbed with smooth communication skills will help manage the tough time with ease. People with the backlog in paperwork shall be able to update their records and accomplish their plans. Business partners may be able to strike a good deal in their area of interest. https://www.facebook.com/vedicguruji/
May 5th, 2020 (Tuesday): Mercury's power will rule the communication and thinking capability of the people falling in this sun sign on this day too. You will be able to put across your message strongly and others will listen to you. Writers will experience a bout of great thoughts that they will be able to weave into words easily. When Mercury aligns with Sun, natives can make use of logical thinking. However, the day is not favourable for investment.
May 6th, 2020 (Wednesday): Today you may come across as a healer, and others will react favorably towards the decision taken by you. The natives will be able to trust their intuition too. Practicing Yoga and Meditation will yield beneficial results and awaken the spiritual side of your personality. Major planets show movement in the western half of the chart during this time of the month. The good news in the family will uplift the mood of the natives and keep them happy.
May 7th, 2020 (Thursday): The Full Moon on this day is a positive moon phase for 6 weeks. There may seem a silver lining in the cloud as the pandemic may show signs of a flat curve due to the Lockdown effect. Relationship challenges will require attention and be overcome with an increased emotional approach. Avoiding confrontation with siblings and colleagues is required on this day. Capricorn natives can share enjoyable intimate time with the spouse on this day.
May 8th, 2020 (Friday): Savings will prove to be a savior as a tough time due to the virus is still on. The daily expenditure will be met but it is advisable to keep saving for the future. Unnecessary physical activity like strenuous or laborious tasks can be kept at bay for the day. Minor illness may keep the spirits low. Professional life will, however, be active and fruitful. Students will be able to focus on their respective areas of discipline and fulfill the expected goals too. Praying can be considered as a good exercise to keep the spirits high.